How to Maintain and Repair Your Car's Safety Systems
Safety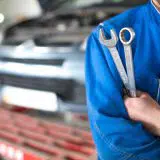 Posted by: Boggs 2 weeks ago
Most people don't give the safety systems and airbags in their car a second thought when they head out on the road. However, these systems are one of the most important (if not the most!) features in your vehicle and need regular maintenance and attention to stay effective.
Of course, we all hope we'll never be in a car accident, but statistically, it's highly probable that you will be involved in a motor vehicle collision at some point in your life. When that happens, we want you to rest easy knowing the safety systems in your car or truck are working the way they should.
Is your car or truck due for routine maintenance or do you need to get something specific fixed?
Click below to schedule service with us. We can even pick up your car at no additional cost to you using our Boggs Driver service!
Get To Know Your Car's Safety Features
When we talk about safety features in a car, most people think of seatbelts and airbags. That's not wrong, but your car's safety features cover more than those two visible and well-known features. Your vehicle may not have everything that is listed below, but most modern cars and trucks have these features.
Airbags
According to the United States Department of Transportation, frontal airbags have saved more than 50,000 lives in the past 30 years. Most modern vehicles come equipped with at least frontal airbags, with many including airbags in the side panels as well.
The good news is that most airbags don't need extensive maintenance to stay effective. At Boggs Automotive, we can check and repair your vehicle's sensors (which is how airbags know when to deploy) as part of our extensive inspection service.
Pay attention to the lights on your dashboard, and if you see one that looks like this, schedule an inspection and service immediately to make sure your airbag system is working properly.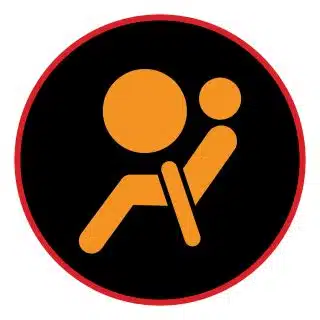 Seatbelts
Another obvious safety feature on every modern vehicle, but we couldn't leave it off the list! Seatbelts are made of an extremely strong webbing material that's designed to stretch, then return to its original shape to keep you inside your vehicle during a collision.
Seatbelts rarely need to be repaired, unless they have been damaged as the result of a collision or emergency requiring the seatbelt to be cut.
Anti-Lock Brakes
An anti-lock brake system (ABS) is designed to help you keep control of your car while you brake, especially during icy or wet conditions. It is essential to keep your entire braking system working properly.
Your brakes could include pads, rotors, fluid, calipers, and other features. If you get your vehicle's oil changed regularly at Boggs Pit Stop or Boggs Automotive, our mechanics will check your front and rear brakes as part of that service.
Electronic Stability Control
This safety feature is a more extensive traction control system designed to stabilize your car or truck if it's losing traction on the road. It applies brakes to your wheels during slippery road conditions or if you're overcorrecting while steering.
Stay Safe On The Road With Boggs Automotive
If you've noticed icons on your dashboard lighting up, bring your vehicle into Boggs Automotive as soon as you can so we can take a look at your car safety features. Our mechanics can perform a thorough inspection, scanning your vehicle to diagnose the issue and repair sensors if needed.
We're proud to be your local full-service car repair and maintenance shop with two convenient locations in Warsaw. We also have free pick-up available with our Boggs Driver service for oil changes and preventative maintenance services.
No appointment is necessary for oil changes at Boggs Pit Stop or Boggs Automotive, so you can just stop by! If you'd like to schedule any other car repair services, just click below to give us a call.
You May Be Interested In: